You'll be pleased to know that there's nearly always a quick resolution that will get your air conditioning system back up and running again should it fail. So, if you need to book an air conditioning service, check with your nearest First Stop garage by giving the team a call.
A car's air conditioning system, like every other part of it, requires some upkeep to ensure it's always working at its best. However, some of us only consider booking an air con recharge when it stops working or when there's a bad smell in the air.
To maintain a fresh-smelling air con system that effectively cools your car during summer and demists the windows in winter, it's recommended to have it serviced every two years. Of course, if you notice problems before then, speak to our First Stop mechanics who can provide you with air conditioning services.
It is vital to keep your car's air-conditioning system in optimum shape, for the sake of comfort above all, of course, but also for safe driving, since it has a positive effect on the driver's reactivity.
Having your car's Air Conditioning system serviced will ensure that you remain cool when travelling in hot weather and take longer to demist the windows in winter.
Air conditioning is not typically covered in your vehicle servicing schedule. This is because air-con systems are provided for comfort rather than safety.
Why air con regas and repair is necessary
A car's air conditioning system can lose approximately 10% of its refrigerant gases each year which can compromise its performance. That's why a bi-annual air conditioning service is key to keeping it operating at its best.
During an air con service, old refrigerant gas will be removed and then topped up with fresh refrigerant, and lubricant levels will be replenished too. Each component will be checked to ensure it functions as expected and your cabin filter will be changed to ensure full airflow, quiet operation and to keep as much pollution out as possible.
You can also get it cleaned too - a process called debugging – where an air con bomb is used to kill all bacteria that has built up in the system.
An air con service will:
Help to improve your driving experience

Avoid tiredness and slower reflexes during your journey
Stop the build-up of bacteria in your air vents which causes sickness and nausea in your car

Provide cool air when the outside temperature is hot

Maintain good visibility in adverse weather conditions
Remember: Your air con isn't tested during an MOT

When you take your car for its MOT inspection, keep in mind that your car's air conditioning system won't be checked. This is because it's considered to be a non-essential component, so it's not included in the assessment of your car's overall condition.
Find out more about what's involved in an MOT or book your MOT online
What you can do to maintain your car's air conditioning system
In general, you should do a quick check every year, and a complete overhaul every two years, including re-gassing the air-conditioning circuit. Car manufacturers recommend you recharge your Air Conditioning at least, every 2 years least.
Also, if you detect an unusual smell when using the system, if fuel consumption increases significantly, or you notice that it takes longer to cool the interior, go to a specialist First Stop Centre, to get the system checked.
It's best practice to use your air-con all year round to prevent it from seizing up, and of course, take your car to your local First Stop mechanic to get the air-con recharged and debugged if it's smelly.
It is a good idea to use the air-conditioning in the winter, to clear the windscreens quickly. Also turning it on regularly extends the life of the system.
Car air con regas: why it's important

Whilst the obvious answer to why you should regas your air con is to keep your car cool, here are some other reasons why you should:

It improves fuel efficiency –
When the refrigerant is low, the air con has to work even harder which uses more fuel.
It can save you money on bigger repairs –
By keeping on top of your air con, you can nip any small issues in the bud before they become a bigger problem.
Gets you moving quicker in the winter –
A foggy windscreen can easily be demisted with warm, dry air from your air-con, so you'll want to keep it topped up for every season.
Electric car air conditioning services

The electric car's (EV) air conditioning system differs from the air conditioning systems in vehicles with internal combustion engines. In EVs, the AC pump is electric and runs on battery power instead of being driven by an engine. It is an integral component of the high voltage system in an electric or hybrid vehicle, which is why any regas and repairs require a trained technician.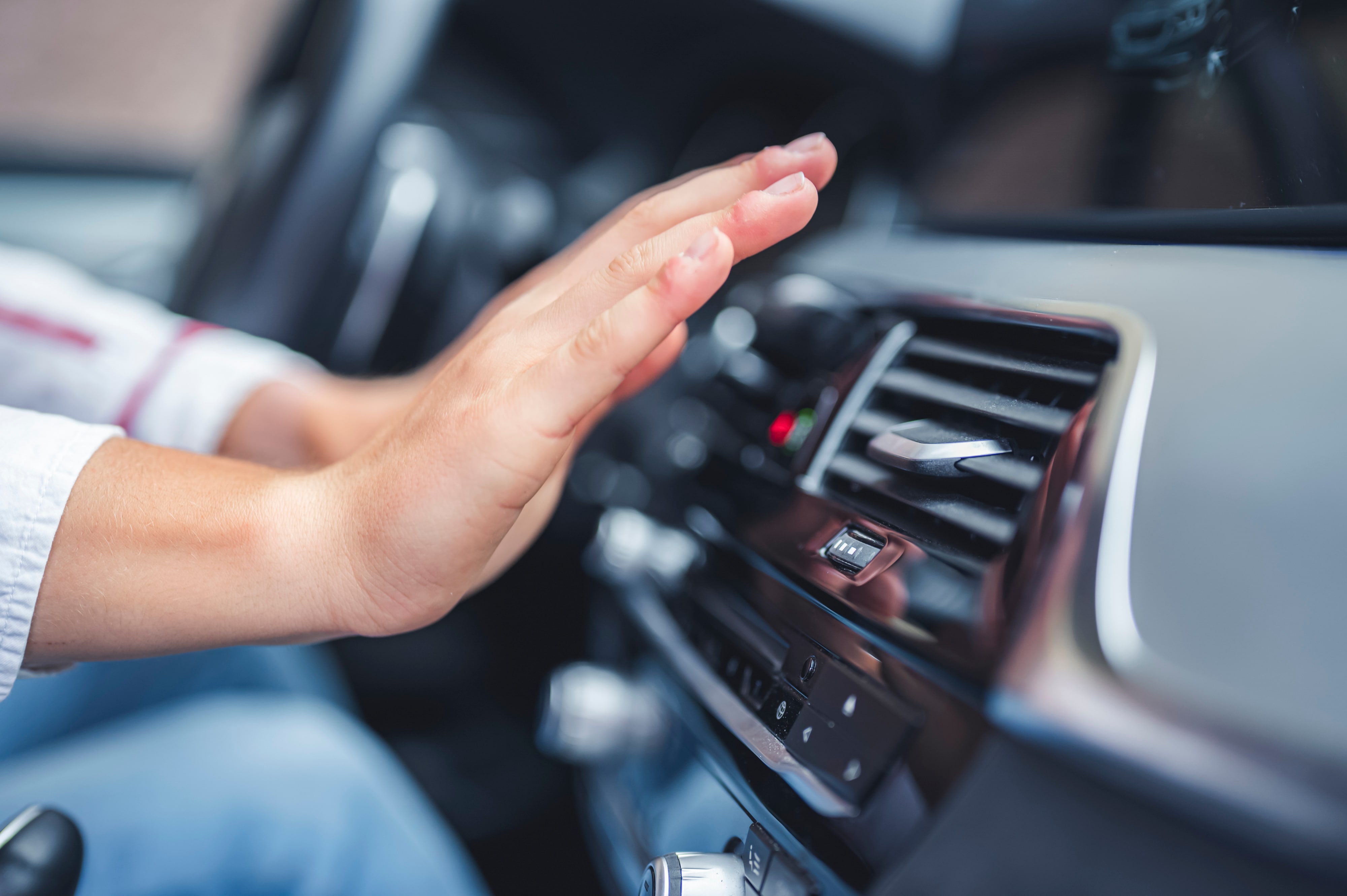 What's included in your car's air conditioning service?

An air conditioning service at First Stop includes:
Refilling refrigerant and oils to meet the manufacturer's recommended levels.
Removing air and moisture from the system.
Conducting a comprehensive system check to identify potential leaks.
Checking the temperature output is accurate.
If required, cleaning the air conditioning system to eliminate any unpleasant odours.
FAQ: Car's air conditioning system
How to recharge air conditioning in a car
An air con recharge refers to the process where the refrigerant is added to the car's cooling system so that it can continue to blow cold air effectively.
When recharging a car's air conditioning system, you need to be prepared with a compatible refrigerant gas. The refrigerant then needs to be measured using a digital gauge to check the diagnostics, this will let you know if there's anything you need to be aware of such as leaks, and whether the pressure is low, good or over the recommended level. If the pressure is low, the system will be recharged.

If you've noticed that your air con isn't working as it should, it's a sign telling you that you need an air conditioning recharge. But don't worry, we have you covered, we offer air conditioning services and can take care of everything and give it a good, thorough clean too.
Want to know what else we can assist you with? Find out more about our services.
Visit your nearest First Stop Shop for Professional advice click on the link below: