What if you were on the way to an important meeting and you had a puncture?
According to statistics, over 50% of punctures happen at the most inconvenient time and place. In this situation, the best thing is to go to the nearest First Stop Centre so that the puncture can be inspected and repaired if possible, or have a new tyre fitted if required.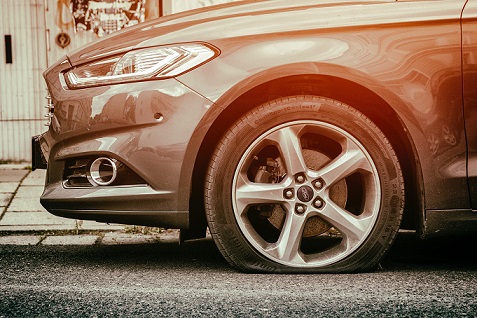 Can all types of punctures be repaired?
Unfortunately, not all punctures can be repaired and in view of this, it is very important for a specialist to check the tyre.
If the puncture in the tyre is in the tread, it can be repaired as long as the specialist finds there is no internal damage to the tyre. However, if the puncture is in the shoulder of the tyre, or in the side wall, it is most likely that the puncture cannot be repaired.
If the tyre cannot be repaired, your First Stop specialist will recommend the best type of new tyre that you need for your vehicle.
What to do if I get a tyre punctured?
For safety's sake, and to avoid serious damage to the rim, the wheel or the car itself, you have to stop the vehicle as soon as possible, change the punctured tyre and go to the nearest First Stop centre so that the tyre can be repaired.
If the car is fitted with Bridgestone DriveGuard tyres, the reinforced side wall will allow you to drive safely for a limited distance and at a reduced speed. This type of tyre also includes Cooling Fin technology which redistributes the heat and friction if the tyre suffers a puncture.
In this case, it is also recommended to go to the nearest First Stop centre for a tyre inspection of your puncture who will inform you if you need to repair or replace the tyre.
Why repair a puncture?
You'll save money by not buying a new tyre
You will avoid internal damage to the tyre
You will extend the tyre life.
How long does it take to repair a puncture?
In general, it takes between 15 and 20 minutes. But it will depend on the nature, type of puncture in the tyre, size of the tyre and whether the tyre is fitted to an alloy wheel.
Visit your nearest First Stop Shop for Professional advice click on the link below: