What are winter tyres?
With their special compounds and tread patterns, winter tyres are designed to stay soft and flexible in cold conditions, providing traction and grip in low temperatures on dry, wet and icy surfaces, typically used when temperatures consistently drop below 7 degrees.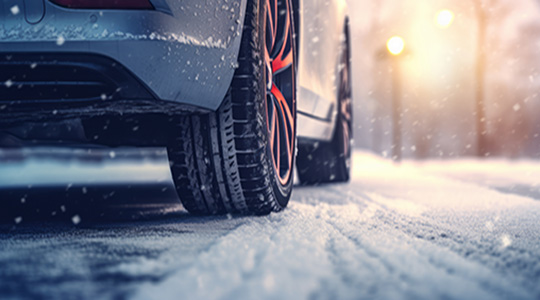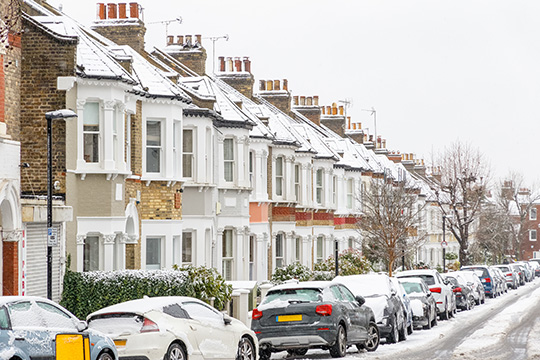 How many UK drivers opt for winter tyres?
Around 43% of European drivers change over to snow tyres for the cold season, with enormous differences by region. While 92% of Poles and 88% of Germans drive on winter tyres, the figure drops to 23% in France and only 8% in the UK. This is largely due to the fact that we don't experience too much heavy snow, making it less of a necessity to switch to cold weather tyres.
Overall usage of winter tyres in Europe is on the increase, partly because of erratic winter weather in recent years, but also due to new national road-safety regulations, where it is a legal requirement to switch to winter tyres in some European countries.
According to a YouGov survey taken in 2021, only one in 10 motorists will change over to winter tyres.
What are the main types of winter tyres?
There are two main types of winter tyres, studded and studless tyres. Studded tyres were the only snow tyre available for a long time, but advances in rubber compounds and other winter tyre technologies have resulted in studless tyre products. Studless tyres are now predominantly the winter tyre of choice.
Modern non-studded winter tyres lean on advances in rubber compounding, tread designs, and other unique technologies. In cold temperatures, a non-winter tyre tread rubber becomes stiffer and less able to conform to even a dry road irregularities. Modern studless snow tyres are capable of maintaining flexibility in freezing temperatures, thanks to advances in rubber compounding technologies.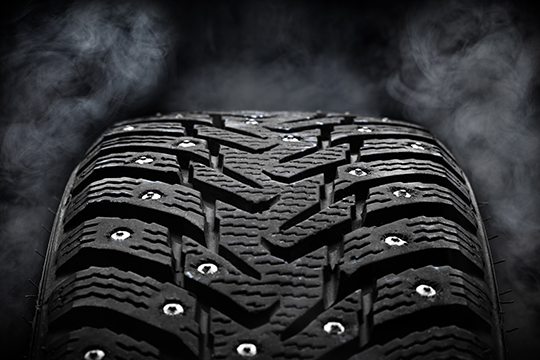 How cold must the temperature be before switching to winter tyres?
Typically, when the seasonal temperature falls below 7 °C (46 °F), it's an ideal time to switch from summer tyres to winter tyres.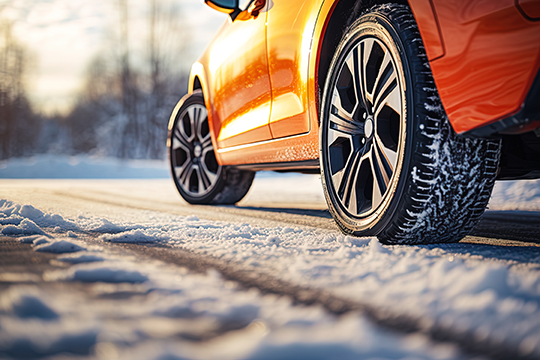 How do winter tyres work?
In simple terms, winter tyres work because of their softer compound, which makes it easier for them to grip roads at colder temperatures. It is their higher natural rubber content which provides the softer structure, which in turn allows for superior braking and greater traction.
This increased rubber flexibility allows tyres to maintain traction on snowy, icy, wet and dry driving surfaces. Studless winter tyres generally have deeper tread depths than summer or all-season tyres. Deep tread depths allow the tyre to manage snow and slush dispersion from under the tyre.
It also allows the tyre to provide better (snow-on-snow) traction by packing it within the tread blocks. Another feature you'll notice is thousands of tiny slits in the tread pattern, called sipes. These act as thousands of biting edges on ice that help with acceleration, deceleration, and stopping.
How can you identify a winter tyre?
Search for the Three Peak Mountain logo! Only the 3PMSF label, represented by an image of a three-peaked mountain surrounding a snowflake, is an official tyre winter tyre certification here in the UK. Crucially, a tyre with this three-peak logo must have been tested according to a standardised regulatory body, as proof of its performance.
Don't confuse the mountain symbol with an M+S marking. This shows that the tyre is better suited to snowy or muddy roads than summer tyres, but an M+S marking does not need to have passed a certified test. It is down to the tyre manufacturer's discretion as to whether it appears.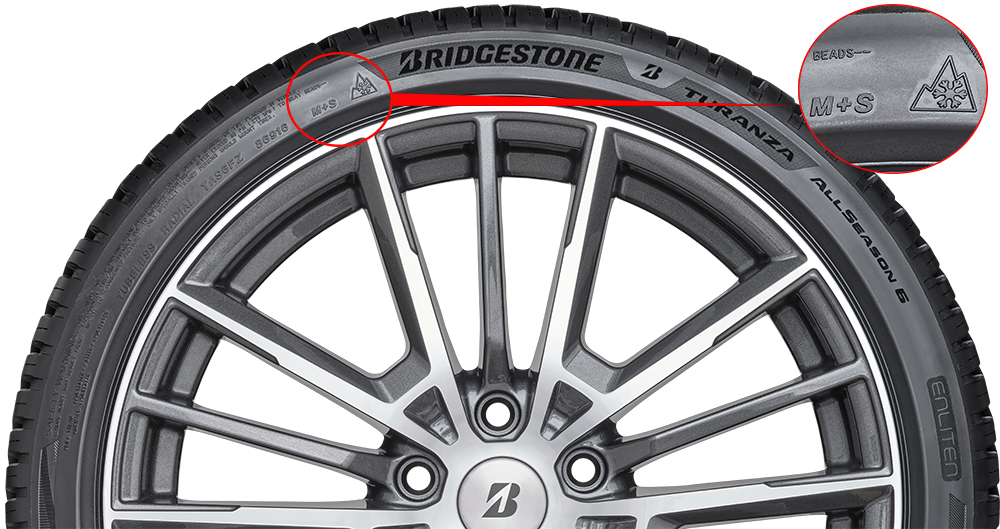 What are the benefits of winter tyres?
Winter tyres provide superior braking and handling on snow and ice as well as on wet roads in cold conditions.
In these more extreme conditions, you can expect less skidding, greater traction and control and a much safer journey. The difference between winter and summer tyres in severe winter weather really is like night and day.
If we endured the same extreme winter weather as some of our European neighbours, over a prolonged period of time, we wouldn't just be advocating winter tyres, but the Government could well be demanding it as legislation, as is the case in other countries.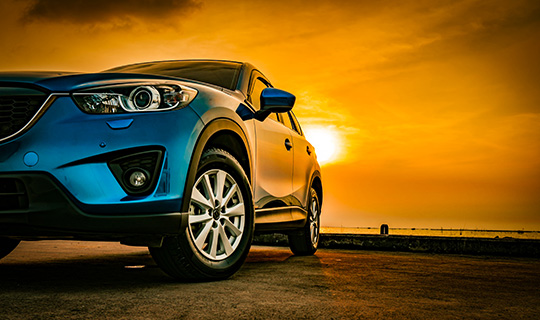 Can you drive on winter tyres in the summer?
You can drive on winter tyres in the summer, but we advise that you don't. As temperatures rise, winter tyres lose their advantage, with grip declining and tread wearing faster, so while you can, we would advise that you don't. On the other hand, summer tyres use a harder compound which does not become too soft and sticky on hot roads. In higher temperatures, summer tyres provide better all-round performance than winter tyres, particularly in braking and handling, wear resistance, rolling resistance and fuel economy.
Can you drive on summer tyres in the winter?
Yes, you can and millions of motorists do! This is largely down to the fact that our winters are milder, with differences in performance not as noticeable in this climate compared to the really harsh winters in other parts of the world.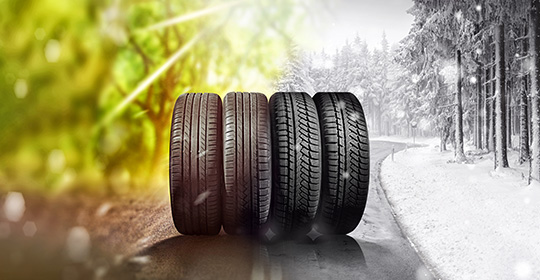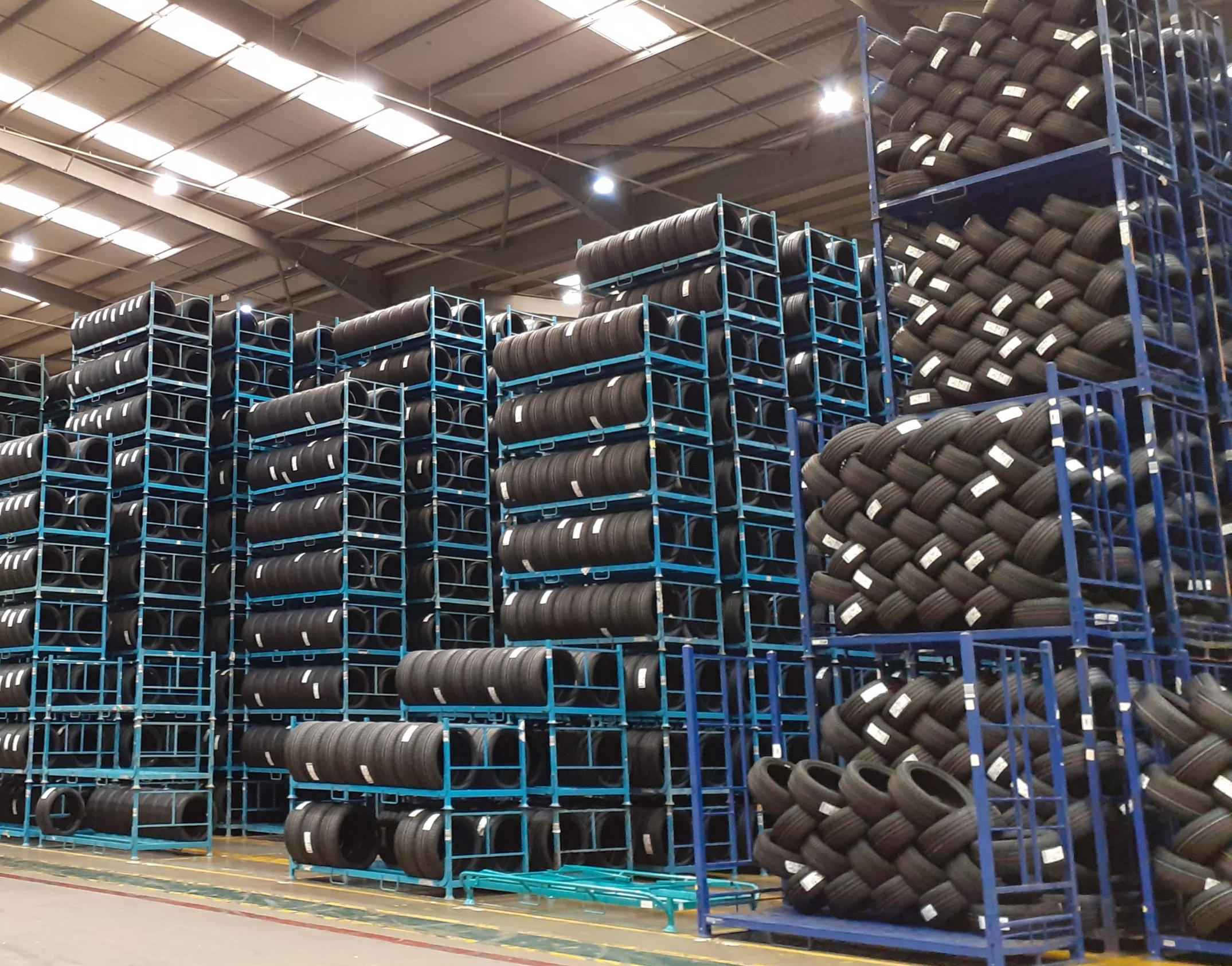 Winter tyre storage and 'tyre hotels'
One other obstacle to fitting winter tyres is having somewhere to store your summer tyres when they're not fitted to a car. Without a shed or garage to store them in, it can be a pain.
This is where a tyre hotel comes into its own. This service is available at some First Stop depots, where we will store your summer tyres for you over the winter. Many depots can ensure that your summer tyres are kept in a cool, dark and safe place, ensuring they'll be in good condition once they are changed back in the summer.
Is it a good idea to fit an all-season tyre?
As stated, in many parts of mainland Europe it's quite common (or even a legal requirement) to keep two sets of wheels and tyres – one for summer and one for winter, but this isn't the case in the UK.
Some of the practical and economic reasons are that many parts of the country rarely experience harsh weather conditions that would justify the use of winter tyres. We are also advised to stay at home or make only necessary journeys when ice or snow are around and the additional cost of another set of tyres - especially in the run-up to Christmas - may prove prohibitive.
Many tyre manufacturers' internal testing shows that on snow, the braking distance for a summer tyre can be almost three times longer than its winter relative.
But compared to the rest of Europe, the UK generally falls behind in terms of approach to driving in colder conditions. In our idiosyncratic climate, full winter tyres may not actually be necessary.
So with this in mind, an all-season tyre is a compelling solution.
There are some impressive products on the market right now which offer the perfect 'halfway house' between a winter and summer tyre, with fantastic levels of performance to get you through the colder weather - which will inevitably arrive at some point.
What is an all-season tyre?
An all-season tyre offers a balance of capabilities, providing acceptable performance in wet and dry conditions, as well as traction in snow. Built for the average driver, all-season tyres have moderate tread depths and rubber compounds that are engineered to provide longer tread life than summer tyres, which have shallower tread depths.
All-season tyres perform reasonably in warm weather, but they may offer less grip than summer tyres, sacrificing some steering, braking, and cornering capabilities. This trade-off is necessary for all-season tyres to be able to provide acceptable performance in light winter conditions and provide longer tread life. All-season tyres are capable of providing traction in winter but are not the best tyres to use in extreme winter driving conditions.
For the typical winters we get in the UK, an all-season tyre is a wise choice and one we would recommend at First Stop.
Tyre advice page
At First Stop, our team of technical experts have created an online tyre advice hub with you in mind, from part-worn tyres to common tyre maintenance tips. For some simple, easy advice, visit here