Journeys interrupted by a punctured tyre or damaged tyre cause delays, inconveniences and can lead to dangerous situations. This is where run flat tyres come into their own.
What are run-flat tyres?
Run flat tyres are essentially designed to keep your car on the road in the event of a puncture. The driver can maintain control of their vehicle in the event of a puncture/sudden loss of pressure (Those who have ever had a tyre blow out will agree that this is a welcome safety aspect).
Even when faced with punctures, air leaks or tyre damage, run-flat tyres enable drivers to keep control and continue driving safely until they find a garage – preferably one with First Stop above the door! 
How do run-flat tyres work?
Run flat tyres feature reinforced sidewalls that continue to support the vehicle load at zero pressure, with little noticeable difference in handling. This is unlike conventional tyres which deform under the vehicle's weight. It is this feature that enables the driver to get themselves to the nearest garage or tyre dealer where they can either have the tyres repaired or have them replaced.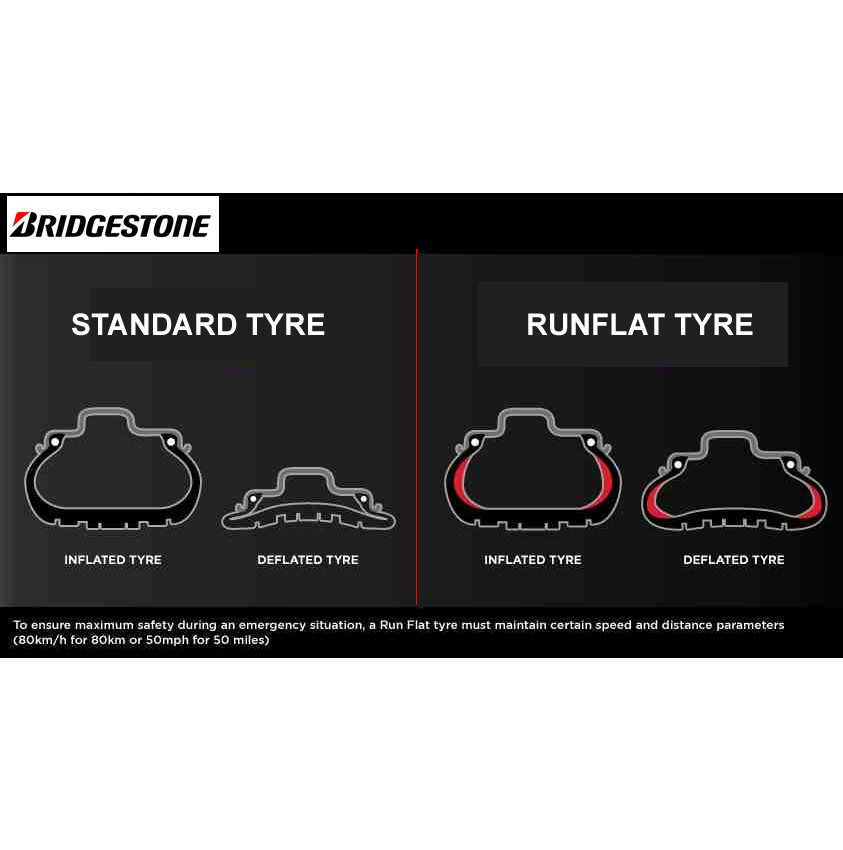 When did TPMS become mandatory?
TPMS became a mandatory fitment on all new cars from November 1 2014 and has also been part of the MOT test for all cars fitted with the technology that were first used on or after January 1st 2012.
Why are TPMS sensors so important to run flat technology?
Run flat tyres can only be fitted to cars fitted with Tyre Pressure Monitoring System (TPMS) sensors. These sensors are crucial in making run-flat technology work.
All vehicles that utilise run-flat tyres need to be equipped with TPMS, which gives the driver a dashboard warning light to indicate a loss of pressure. Without TPMS, the driver would be unaware of any pressure loss and would continue to drive as normal, potentially driving at distances and speeds outside of the recommended 50 miles at 50 mph.
Can run-flat tyres be fitted to a vehicle without TMPS?
No, because as there is no apparent change in the vehicle's performance, you will not realise that you have had a puncture.
How far can you travel on a run-flat tyre?
Even when faced with punctures, air leaks or tyre damage, run-flat tyres typically enable drivers to keep control and continue driving safely for 50 miles at speeds up to 50mph.
However, we would recommend visiting a garage as soon as possible once the TPMS warning light flashes on your dashboard.
How do you identify run-flat tyres?
To tell if your tyres are equipped with run-flat technology, you need to look at the tyre sidewall itself. Every tyre brand will have its own initials or letters to prove that they are tyres fitted with run-flat technology. Look out for the specific symbol for the brand of tyres you have, because different brands have different lettering.
Some display the letters "RF" or "RUN FLAT" on the sidewall. It is important to note that not all tyres with reinforced sidewalls are run-flat tyres, so do check for these specific markings to confirm whether your tyres are run-flat tyres or not.
TPMS became a mandatory fitment on all new cars from November 1 2014 and has also been part of the MOT test for all cars fitted with the technology that were first used on or after January 1 2012.
Can you repair run-flat tyres?
It is rare that run-flat tyres can be repaired once a puncture has been sustained, because of the way in which a run-flat tyre is reinforced to be useable when punctured, it's not possible to repair them following a puncture or any other sort of damage.
Once a damaged run-flat tyre is driven on, the structure that supports the weight of the car is compromised. This cannot be fixed, unlike a traditional tyre.
What are the benefits of driving on run-flat tyres?
There are a number of benefits of driving on run-flat tyres, including:
SAFETY; Peace of mind: being stranded with the stress associated with calling for breakdown collection, due to a puncture, is not a scenario to worry about.

SAVINGS; Better fuel economy: Run-flat tyres mean that a weighty spare wheel and wheel brace can be left in the garage, potentially resulting in better fuel economy.

CONVENIENCE; No need for tyre repair kits: Run flats remove the need for tyre repair kits which is good news. These kits can pose problems, due to a lack of awareness of installation and then how to use them.
Do you need a spare tyre if you have run-flat technology?
No, and this is another positive to bear in mind! A spare tyre is effectively 'dead weight' in the boot which seriously impacts the aerodynamics and fuel efficiency of the vehicle – which is a problem for manufacturers and motorists alike.
Do you still need to check your pressures if you have Run-Flat Technology tyres?
Run Flat tyres need to be checked as part of your regular vehicle maintenance, including pressures, tread depths, and signs of any damage.
Can you drive indefinitely on a run-flat tyre with a puncture?
No. In the event of a sudden pressure loss, Run Flat Technology tyres can be driven for a further 50 miles at speeds up to 50mph, as determined by vehicle and/or ISO tests. The actual running distance of a punctured run-flat tyre on your vehicle should be determined by the vehicle owner's manual.
Who invented run-flat tyres?
Bridgestone first introduced the technology to the world in the 80s, and now even more drivers can experience its benefits, which is in line with Bridgestone's ongoing commitment to road safety.
Today, Bridgestone's DriveGuard run-flat technology has taken run-flat technology to the next level.
Are BMW run-flat tyres the best?
BMW run-flat tyres are highly respected tyres which we are big admirers of, but we could not comment if they are the best! Most car manufacturers design their vehicles to be equipped with run-flat technology, which is the same across the board.
As is the case with other marquesses, BMW's run-flat tyres are safer than standard tyres due to the increased stability of the vehicle following a puncture.
Thanks to advances in run-flat tyre technology, run-flats can be fitted to virtually all makes and models of vehicles with TPMS, as a replacement touring tyre choice for millions of motorists.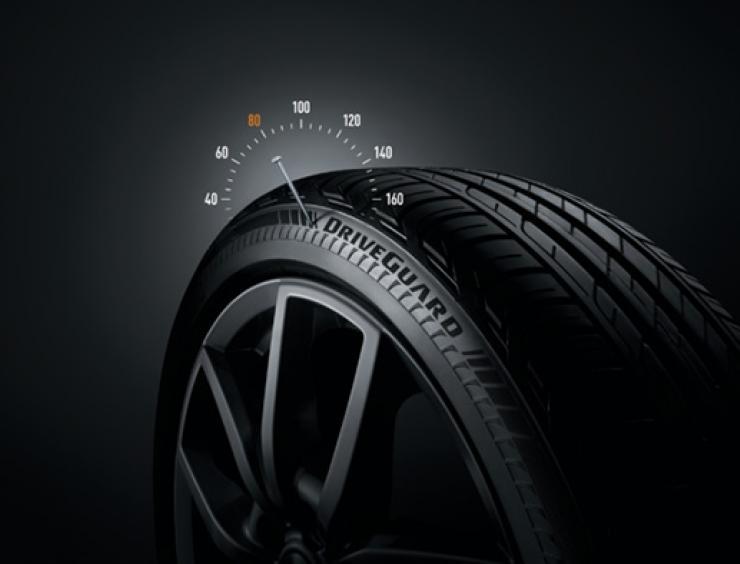 What is Bridgestone DriveGuard run-flat tyre technology?
DriveGuard is designed to be fitted onto all passenger cars to remove concerns relating to tyre damage, including in sidewall and tread areas, and to deliver the highest standards of safety, wet performance, comfort and fuel efficiency; giving drivers additional peace of mind, safety and convenience.
DriveGuard technology uses a proprietary high-tech cooling fin design as well as supportive and tough reinforced sidewalls which allow drivers to maintain control and continue driving safely until it is safe to either repair or replace their tyre providing additional peace of mind related to tyre damage.
Bridgestone DriveGuard offers best-in-class performance with no compromise on wet or rolling resistance as supported by the excellent EU tyre Label[1] values (A for Wet Performance and C for Rolling Resistance) and independent testing by TÜV Süd[2] demonstrating that Bridgestone DriveGuard ranks highly in performance categories that are important to drivers, such as wet safety, placing DriveGuard at the frontline of road safety.
How does DriveGuard work?
Bridgestone DriveGuard is at the forefront of innovation deploying latest technology to bring mobility to the next level, it offers:
Low pressure mobility, due to:

An optimised reinforced tough sidewall which supports vehicle weight upon sudden air loss, maintaining vehicle control to drive on safely for 80km at up to 80km/h (50 miles at 50mph)
Advanced polyester carcass body ply which provides high resistance to heat generation, improving tyre durability
Nano Pro-Tech, a compound that reduces friction between carbon molecules, thus reducing heat generation in the sidewall and helping the tyre to hold its shape
High-tech cooling fin design in the sidewall that channels the increased heat from the sidewall towards the rim and thus helps to preserve the tyre, thereby improving safety and durability

Wet control, due to:

Excellent hydroplaning: high siping with optimized distribution of void in centre part of pattern
Superior cornering: connected shoulder blocks with optimized contact pressure distribution
Short stopping distance: high silica content compound with nano pro-tech technology

Comfort, due to:

New crown structure design providing improved road irregularity absorption
Optimised reinforced rubber insert gauge
Lighter weight construction
Size-by-size comfort tuning
Improved stiffness providing comfort comparable with standard tyres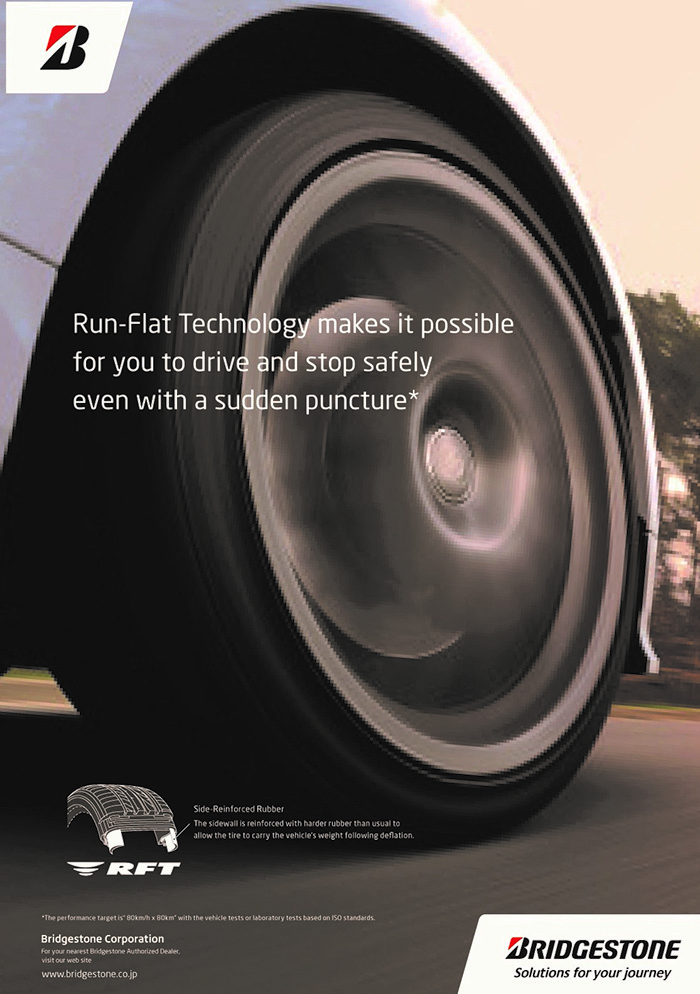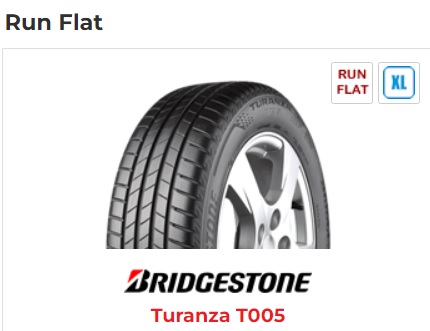 How to find a Run Flat tyre on our e-shop?
Select your nearest tyre fitter
Enter your tyre size or registration
Run-Flat tyres have a RUN FLAT identifier as shown here
Or you can use the filters and select Run-Flat in the specialist tyre section
To find out more about other types of tyres:
Winter Tyres 
Summer Tyres 
All Season Tyres 
4x4 Tyres 
[1] The EU tyre label is a grading system through which manufacturers of tyres for cars, vans, and heavy trucks must specify fuel consumption, wet grip and noise classification. http://ec.europa.eu/energy/sites/ener/files/documents/
FIN%20User%20guide%20-%20tyres.pdf
[2] TÜV Süd report: Bridgestone DriveGuard ranks high in the following criteria compared to competing tyres: straight hydroplaning, lateral hydroplaning, dry braking asphalt and lateral wet grip and at par Test data and results are available on request directed to the above-mentioned address.