4x4s are so much more than a vehicle to get you from 'A to B.' Owners see their 4x4s as pride and joy, which requires tender loving care on a regular basis. How do we know this? Because we are 4x4 lovers here at First Stop ourselves, and we know one when we see one!
We also know that 4x4 adventures are a way of life and an extremely popular pastime, which is why we don't sell 4x4 tyres on price alone.
Which 4x4 tyres are best for me?
Our technicians always ask questions to find out exactly what each customer is looking for, as no two 4x4 enthusiasts are the same.
Customers really need to be factoring in how much all-terrain driving they are doing and how much is mud-related.
Each 4x4 motorist is unique in his or her own right. You might use your 4x4 for the daily commute and school run, or you might be the more adventurous type whenever you're behind the wheel.
When thinking about your next set of 4x4 tyres, think about what you need:
Wet handling and dry grip?

Smooth roads or rugged terrain?

Comfort or performance?
We will always ask these questions and once you've provided the answers, we can get to work.
We stock thousands of all-terrain tyres and off-road tyres because we know that no two drivers are the same, with a range of different driving environments that need to be factored in.
For example, 4x4 tyres with rugged tread patterns are designed for the hardcore demands of off-road driving - even through heavy mud. These off-road 4x4 tyres incorporate technology to offer superior durability and off-road performance, providing maximum traction and control in the process.
On the other hand, plenty of 4x4 owners will have less demanding driving requirements, with an all-terrain tyre more suitable for regular journeys on roads and motorways.
What are the differences between Off-Road and All-Terrain tyres?
The difference between an off-road tyre and an all-terrain tyre can usually be seen by the naked eye alone. 
An off-road tyre is a chunky tyre with a visibly noticeable tread pattern designed to perform in more challenging conditions. Off-road tyres have bigger treads, spaced widely for better grip and traction. They are designed to offer better performance on difficult ground.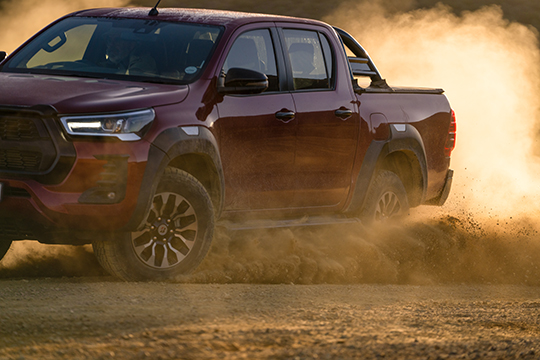 Picture a farmer working away on muddy, steep slopes and expecting his or her 4x4 to be shod in off-road tyres.
An impressive off-road tyre will also boast a stronger carcass to withstand the uncompromising conditions it is operating in because it is at a higher risk of damage.
We would encourage anyone encountering deep mud, uneven surfaces and unpredictable conditions to consider an off-road 4x4 tyre.
An all-terrain tyre is more of a 'halfway house' between off-road driving and regular on-road travel. There is more to an all-terrain tyre than meets the eye, as some focus on on-road performance and other all-terrain tyres offer greater mud and off-road characteristics. If an all-terrain tyre majors on superior road performance capabilities, it will have a shallower tread pattern, allowing it to run at high speeds.
If an all-terrain tyre leans towards superior off-road performance, tread patterns will be deeper, and driving might not feel as quiet and smooth.
What are on-road 4x4 tyres?
On-road tyres are manufactured for a smooth, quiet ride on everyday road surfaces.
If you don't intend to use your 4x4 for any off-road driving in more demanding conditions, an on-road tyre would be a wise choice for you.
With the increased popularity of high-performing crossovers such as the Audi Q7 and the BMW X5, on-road tyres boast the same qualities as the best-performing car tyres.
A high percentage of 4x4s actually leave the factory line with on-road tyres, because the vehicle manufacturer anticipates that the vehicle will be used mostly for typical daily mileage, rather than on rugged off-road settings.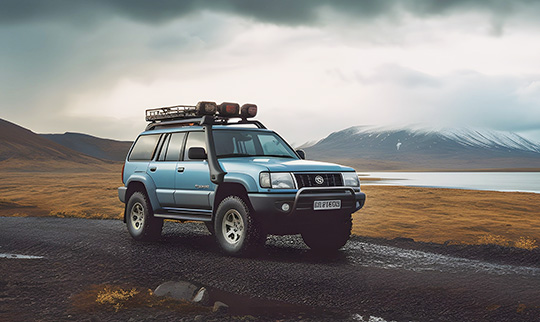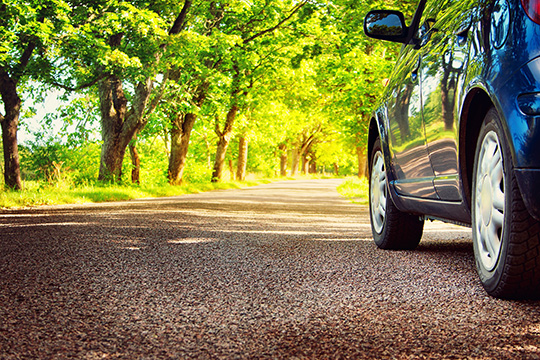 What are the differences between on-road and all-terrain tyres?
An all-terrain tyre will feature a more aggressive tyre design for better adaptation and reaction over different types of terrains. Look out for innovative hexagonal block shapes and pattern architecture to provide excellent traction and braking balance on different surfaces, as well as the capacity to grasp mud and snow while keeping the tyre clean when back on asphalt.
The tread pattern of a standard on-road tyre is generally softer and finer, more in keeping with a tyre you will see on your car. They perform better on roads, are quieter and allow for better performance at higher speeds on roads.
What is an SUV tyre?
SUV stands for sport utility vehicle and SUV tyres are engineered to extract the very best performance from them.
SUV tyres are similar in essence to car tyres. They take all the qualities of a car tyre and add to them for an SUV, focusing on road driving which is perfect when driving in urban areas. SUV tyres are typically bigger, in order to handle the increased weight of an SUV.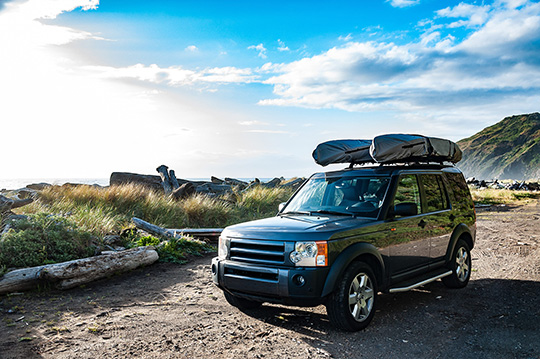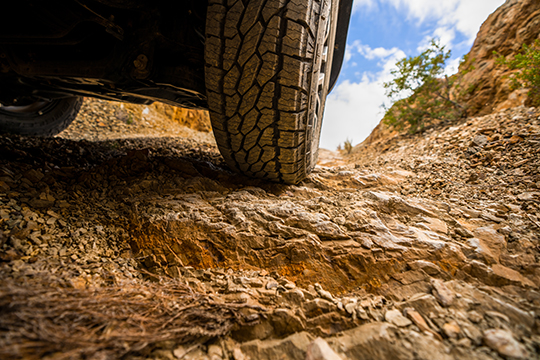 What is the best technology behind a 4x4 tyre?
The silica composition of all modern 4x4 tyres is excellent. They are all fit for purpose and offer all-round benefits to each motorist. Modern 4x4 tyres have many targets to achieve, whether that be noise (both pass-by and internal), weight, wet & dry grip, or aquaplaning, to name but a few. With advances in compound technology (silica / Nanopro Tech) and mixing (tandem mixing), tyre manufacturers are advancing their individual technologies.
What's a good 4x4 tyre for off-roading and motorways?
The Bridgestone Dueler All-Terrain A/T 002 tyre is very impressive.
Before developing the tyre, Bridgestone questioned drivers of 4x4 vehicles what and mattered most to them. The overwhelming response was for freedom and adventure, while also an emphasis on safety and reassurance so they are ready to tackle the road ahead, no matter the weather or terrain.
The Bridgestone Dueler All-Terrain A/T002 offers all 4x4 drivers – regardless of whether they are looking for adventure, or simply using their vehicle for their daily work – the confidence and control they need to push their vehicles to their full potential in tackling both on- and off-road conditions.