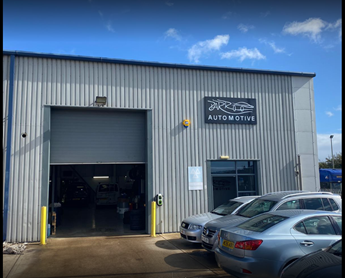 Parr Automotive First Stop
Trust Parr Automotive for all your vehicle needs. We are a leading independent MOT and service garage who have built a respectable reputation for providing an honest and reliable service in the area. We specialise in MOT's, servicing, vehicle diagnostics, car repairs and tyres.
---
---
Bank Holiday opening hours may vary
---
Get in touch
If you have any questions or would like to get in touch, click on the button below to send us a message and we will get back to you as soon as possible.
Contact Us
---
Read what our customers think
Vincent Lee
in the last week
"I have had my cars MOT'd and serviced since receiving a recommendation from a friend who also lives locally for over 6years. I've had brakes changed, exhaust pipe repaired, thermostat replaced with a clear understanding of all costs, effort and timings to get this done. Email and phone calls are responded to promptly. In my view, Sid, Emma and the rest of the team put the customer first and understand if the car is needed back for the school run, it will be ready."
Jonathan Wells
in the last week
"Excellent and friendly service."
Jenni Bradford
in the last week
"Outstanding customer service. I visited for an MOT, service and some repair work. Parr offer great guidance, take care of all the details, put the customer first, and are incredibly professional. I highly recommend and will continue to use."
Mark Morris
3 months ago
"Great service would recommend them to anyone so helpful service with a smile and a great team"
Steve RB
a year ago
"Sid, emma and the team have looked after me and my crazy cars for years now, trust them and their workmanship, best in Harborough as far as I'm concerned"
Mark Stanger
2 years ago
"Outstanding service all round. Had both cars serviced several times, and used Parrs for tyres (from Black Circles). Really cannot fault the professionalism and value. Friendly team too."
Nick Riley
3 years ago
"Have used Parr Auto's for a number of years and always had great friendly and professional service for myself and my wife's cars. Its great to know an honest garage with staff that know what they are talking about and will provide good advice. Wouldn't hesitate to recommend them to a friend."
keith espanared
3 years ago
"The "Nothing is too much trouble" approach by this garage is something to be noted in a time when there are lots of rip off merchants about. After so many problems with the diagnostic light on my car it was heaven to find someone who knew what the problem was. Diagnostic tests were carried out and the problem resolved. Great support staff and knowledgeable engineers-thank you."
---
Services we offer
Adblue
Air Conditioning
Battery
Brakes
Brake Fluid Change
Bulb Changing
Cabin Pollen Filter
Coolant Liquid
Exhausts
Oil Change
Puncture Repair
Rotating Tyres
Safety Inspection
Shock Absorbers
TPMS: Tyre Pressure Monitoring System
Vehicle Service
Wheel Alignment
Wheel Balancing
---
Facilities we provide
Customer toilets
Disabled access
Free WiFi
Hot/cold refreshments
Off-street parking
Reception waiting area
---

---
Areas we serve
Market Harborough and the surrounding areas.
---