At First Stop, we offer you a solution that could delay the need for tyre replacement and saves you a fair amount of money: rotation of your tyres.
This involves swapping tyres between axles, to extend their life and avoid having to replace them prematurely. It means that they will wear more evenly. It can be done on any vehicle, whether front or rear-wheel drive.
If you have a 4x4, we swap the four tyres diagonally. And if your tyres have a one-way tread pattern, we always rotate them front to back.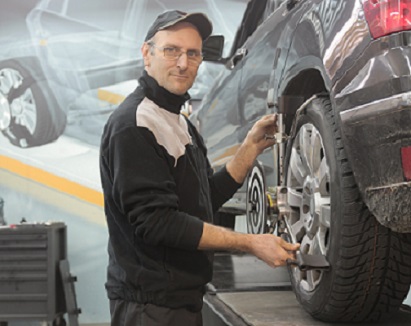 Rotating and changing tyres
If you only have to change two tyres when you buy new ones, we will put the new ones, with deeper tread, on the rear axle, and the old ones on the front. This avoids losing stability and grip on wet road surfaces.
Once we have swapped the tyres, we check the press is correct on each axle and if your car has a pressure monitoring system, our professionals will make the necessary adjustments.
So that you leave our workshop ready to drive in any situation.
When do I have to rotate the tyres?
We recommend rotating the tyres approximately every 6,000 miles, even though there are no visible signs of wear. If you drive at high speed, carry heavy loads or make long journeys, it is better to do it sooner, before your wheels are subjected to extra stress.
Why rotate the tyres on the car?
Avoids premature, abnormal wear on the tread
Maximizes tyre life
Provides uniform grip and traction on each axle
Ensures safer driving
ROTATING/SWITCHING TYRES FAQs
CAN I ROTATE THE TYRES MYSELF?
We recommend you visit a First Stop centre and put yourself in the hands of professionals. After rotating the tyres, it may be necessary to balance the wheels and adjust the pressure on the tyres of each axle to make sure they are properly fitted and ensure safe driving, to extend the life of your tyres.
IF THE WHEELS ON THE FRONT AXLE ARE A DIFFERENT SIZE FROM THOSE ON THE REAR AXLE, CAN I ROTATE THE TYRES?
No, only tyres of the same size may be rotated between different axles.
Visit your nearest First Stop Shop for Professional advice click on the link below: