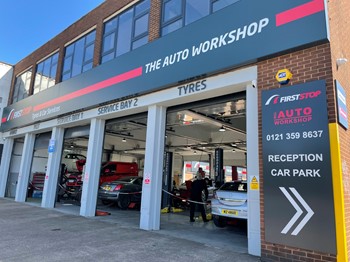 The Auto Workshop - First Stop
The Auto Workshop new state-of-the-art workshop is now open, boasting two MOT bays, four mechanical service and repair bays, and a dedicated hybrid & electric vehicle bay as well as a fast-fit tyre bay.
---
---
Bank Holiday opening hours may vary
---
Get in touch
If you have any questions or would like to get in touch, click on the button below to send us a message and we will get back to you as soon as possible.
Contact Us
---
Read what our customers think
A C
a week ago
"Great service from these guys, they helped me out when I needed a battery changing quickly. Good, friendly service by them. I would recommend."
Mathew Paul
in the last week
"Got stuck on motorway, scary experience to say the least, got towed here, problem found and fixed the same day, very kind and proffesional service, lovley clean site, and way more experienced then any other garage/main dealer ive ever visited... thanks lads was able to finish my journey and be home in time for tea... top job"
Mohammed Sayqab
in the last week
"Excellent service by the auto workshop - first stop i would recommed this company for any vehicle work that require."
Mike H
in the last week
"Great service topped off with very friendly staff. Recommended"
Kamran Hanif
in the last week
"Amazing service from The Auto Workshop, nothing was too much for these guys. Very approachable and friendly staff found the guys honest and reliable, thanks for everything. Will definitely be returning."
Victoria Pell
in the last week
"This is the second time we have used The Auto Workshop for our car and honestly cannot fault them. They're good lads who know what they're talking about. We had a flat tyre, rang them up and they changed it within the hour. They looked after our toddler too supplying her with a juice carton and some biscuits (which kept her happy). I would highly recommend them and now would not go anywhere else."
Michael Wong
in the last week
"Was on the way to Birmingham to do my weekly cash and carry shopping ,while halfway on the M6 motorway the car engine oil light came on,thank god I made it out and found this garage by chance, within 20 seconds out of the car ,I was greeted by one of the staffs, than the owner came out to look at my car,was told needed oil and oil filter change and they could do it straight away , while I was waiting in the reception I was offer tea or coffee , the place was so clean and doesn't smell like a garage (smell like a salon) ,the staffs are well mannered and polite, the service was quick, lastly the help from the owner was priceless....thank you"
mohammed waris
in the last week
"Brilliant garage. Very friendly and helpful. Would recommend"
Roya Boloorsaz
in the last week
"Amazing, the guys changed my alternator on the day my car broke down on the way to work and it was fixed by lunchtime. Would like to thank the guys at Auto workshop."
Haleema Yousaf
in the last week
"Totally expected the worse when my car had to go in. Cannot believe how helpful, honest and informative staff were. I was expecting a huge bull but I got an honest appraisal of the issue and clear options. No sneaky charges and actually quite happy!!!! Thank you Steve for looking after my car and being so honest and helpful."
---
Services we offer
Adblue
Air Conditioning
Battery
Brakes
Brake Fluid Change
Cabin Pollen Filter
Coolant Liquid
Exhausts

MOT
Oil Change
Puncture Repair
Rotating Tyres
Safety Inspection
Shock Absorbers
TPMS: Tyre Pressure Monitoring System
Vehicle Service
Wheel Alignment
Wheel Balancing
---
Facilities we provide
Customer toilets
Off-street parking
Reception waiting area
---

---
Areas we serve
Aston, Birmingham
---