Your vehicle engine needs to be at the right temperature in order to enhance maximum performance. If your engine is too hot, your car can suddenly overheat. If it is a cold winter's morning and your cooling liquid has frozen, your car might not start, leaving you stranded. This is why it is very important to understand what the coolant liquid (or anti-freeze) is and how to check if it is working properly.
The coolant liquid absorbs excess heat from the engine when it is running, to ensure it works correctly even at high temperatures.
Its anti-freeze properties, make the liquid run smoothly throughout the cooling circuit, so it does not freeze, thus expanding its volume and bursting the tubes, leading to a serious, expensive fault that would stop you from driving.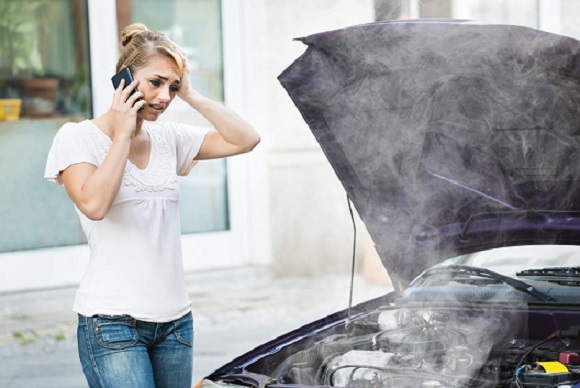 WHEN SHOULD I CHECK THE COOLANT FLUID LEVEL?
As time goes by, the coolant loses its properties, and is no longer effective, particularly as an anti-corrosive substance. So it should be checked every 1,000 miles, to make sure the level is correct. Do this when the engine is cold and the level is stable. It is very easy to see, since it usually has a striking colour, orangey, pink or blue. If you see that it is under the minimum level, there may be a leak in the system, so take it to one of our workshops so that our mechanics can test it.
The coolant liquid must be replaced every 2 years or every 12,000m. The coolant circuit is drained completely to remove any residue and then it is refilled again. At First Stop, we recommend which type of coolant fluid (or anti-freeze) is the best for your vehicle, depending on use and the temperatures to which it is exposed.
Why check the coolant liquid level?
Helps to prevent corrosion in the engine

Stops the vehicle overheating

Stops the coolant circuit freezing

Prevents damage to other components such as radiator or thermostat

Helps the performance of the air-conditioning
COOLANT LIQUID FAQs
CAN I REFILL THE COOLANT TANK WITH WATER?
Water can be an effective coolant fluid in case of emergency. Anti-freeze liquids contain a series of additives which significantly improve their effectiveness.
CAN I MIX TWO DIFFERENT TYPES OF COOLANT LIQUID (OR ANTI-FREEZE)?
First Stop does not recommend mixing them, as they lose their properties.
Visit your nearest First Stop Shop for Professional advice click on the link below: