Why are there Summer, Winter and All-Season tyres?
The main difference between Summer and Winter tyres concerns the temperatures, since this has a major effect on the way in which the tyre adheres to the road surface.
Normal 'Summer' tyres stiffen up when the temperature drops below +7C. Winter tyres use a type of rubber (with a high silica content) and a tread pattern designed to stay flexible in low temperatures – below +7C – to give better braking and handling performance on snow and ice as well as on wet roads in cold conditions.
Summer tyres are designed for use between April and September, when the temperature is above 7C. In severe winter conditions such as wet, frost, snow or ice  Winter tyres are the safer option since their rubber compound remains flexible under these conditions
With All Season tyres the all year-round tyre has more sipes. They are designed to ensure better tyre behaviour when the temperature drops below or above 7C+ in wet, frost, ice, snow or summer conditions.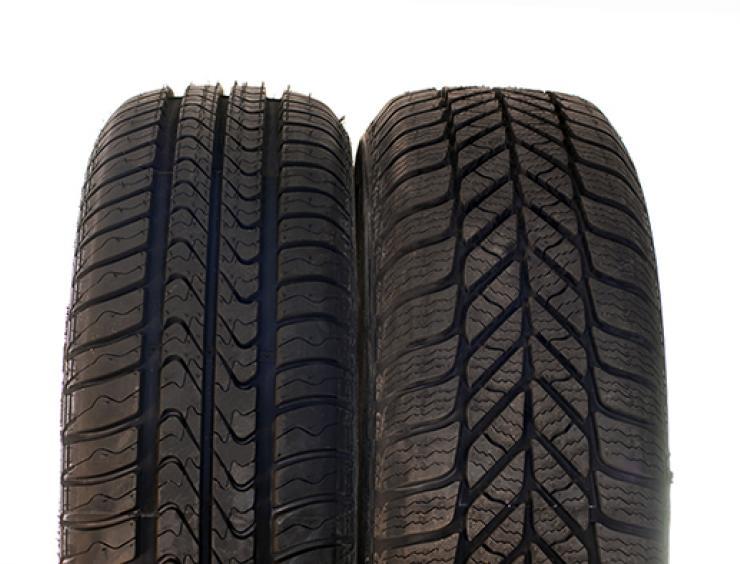 TYRES FOR ALL SEASONS
First Stop offers tyres for Summer, Winter and All Weathers. It is important to remember that your tyres are the only point of contact between the vehicle and the road. This is why it is vital to bear in mind the seasonal and weather conditions, to take the right decision about what tyres to buy.
What are All-Season / Weather / Multi-Season Tyres?
All-Weather, All Season or Multi Season tyres have a tyre rubber compound tread suitable for all year round use. Their design is more like that of a summer tyre, but less like a winter one for bad weather conditions. This means they are less efficient and not so safe when the temperature falls, or if there is snow or ice. When you choose all-weather tyres, you have to make sure you keep them in optimum condition.
When should I change to Winter tyres?
As soon as temperatures fall below 7º C, the performance and feature of summer tyres fall rapidly.
This effects your tyre grip, braking and performance on the road.
Are Winter tyres safer?
They are essential on cold and icy roads, they perform better in rainy conditions and thus reduce the risk of aquaplaning. With their special, deeper tread design, they efficiently drive water off the road surface. They also have greater traction capacity, in snow for instance, than summer tyres.
It is a matter of safety: when the temperature falls below zero, the risk of an accident multiplies six times. In just two years, the German winter tyre legislation lead to a halving in the number of accidents on slippery roads.
What are the sipes for on Winter tyres?
Winter tyres have special sipes which ensure:
Greater traction capacity: they cling to the road surface better
Better grip: their compound remains smooth and flexible, even in severe cold
Better water and snow removal: with the tread pattern and design
Is it not more expensive to combine Summer and Winter tyres?
It is a good investment, because although winter tyres are approximately 10% dearer, this additional cost is overcome by not using the summer tyres for about six months a year, so they last longer.
Where can I keep my tyres?
If you do not want to lose valuable space at home, you can book a space at the First Stop tyre Hotel service. Every six months, the First Stop specialist will change your tyres and store the others.