There are not many garages which can merge car care and canine hair services, but the First Stop network's pet detectives have sniffed out one in the heart of Hereford – and have immediately signed them up as their latest independent partner.
It has been a dog's life – quite literally – for Wye Valley Tyres, situated near the city's racecourse, with owner Stuart Griffiths fixing cars as his wife Elizabeth offers a pet grooming service on the same site.
It's a unique tale that continues to wag amongst motorists in the city, who can book their vehicles in for automotive repairs at the same time they take their pets in for a haircut next door at Dapper Dogs. Stuart, who set up the business in Red Barn Drive in 2017, has now taken the lead to become a member of the First Stop network, in a partnership that will add some bite to his successful offering today.
Wye Valley Tyres will now benefit from in-store and digital marketing support, industry-leading staff training and access to the award-winning Bridgestone range of tyres, along with 24/7 business support from First Stop's team of consultants.
First Stop's Retail Business Consultant Sarah Gardner said she has never come across a business quite like Wye Valley Tyres, with spanners turning on one side of the building, and scissors snipping away on the other.
She said: "We're a network full of dog lovers, so we spent longer with the dogs than we did with the cars, to begin with!
"In seriousness, we have known of Stuart and the Wye Valley Tyres team for a long time, precisely because they care so much about their customers and always go the extra mile to ensure that they leave with a smile on their faces. We want to be associated with businesses like this, so we're thrilled to welcome them to the network.
"Stuart treats his motorists like Elizabeth looks after her dog grooming clients, and when we visited the place for the first time, we were really struck by this, and felt a very warm atmosphere at one with the local community."
Stuart was excited to join First Stop, as he aims to establish the business as a pedigree choice for motorists. He already operates a 24/7 tyre breakdown service across the whole of Herefordshire, from as far south as Ross-on-Wye as far north as Leominster and anywhere else in between.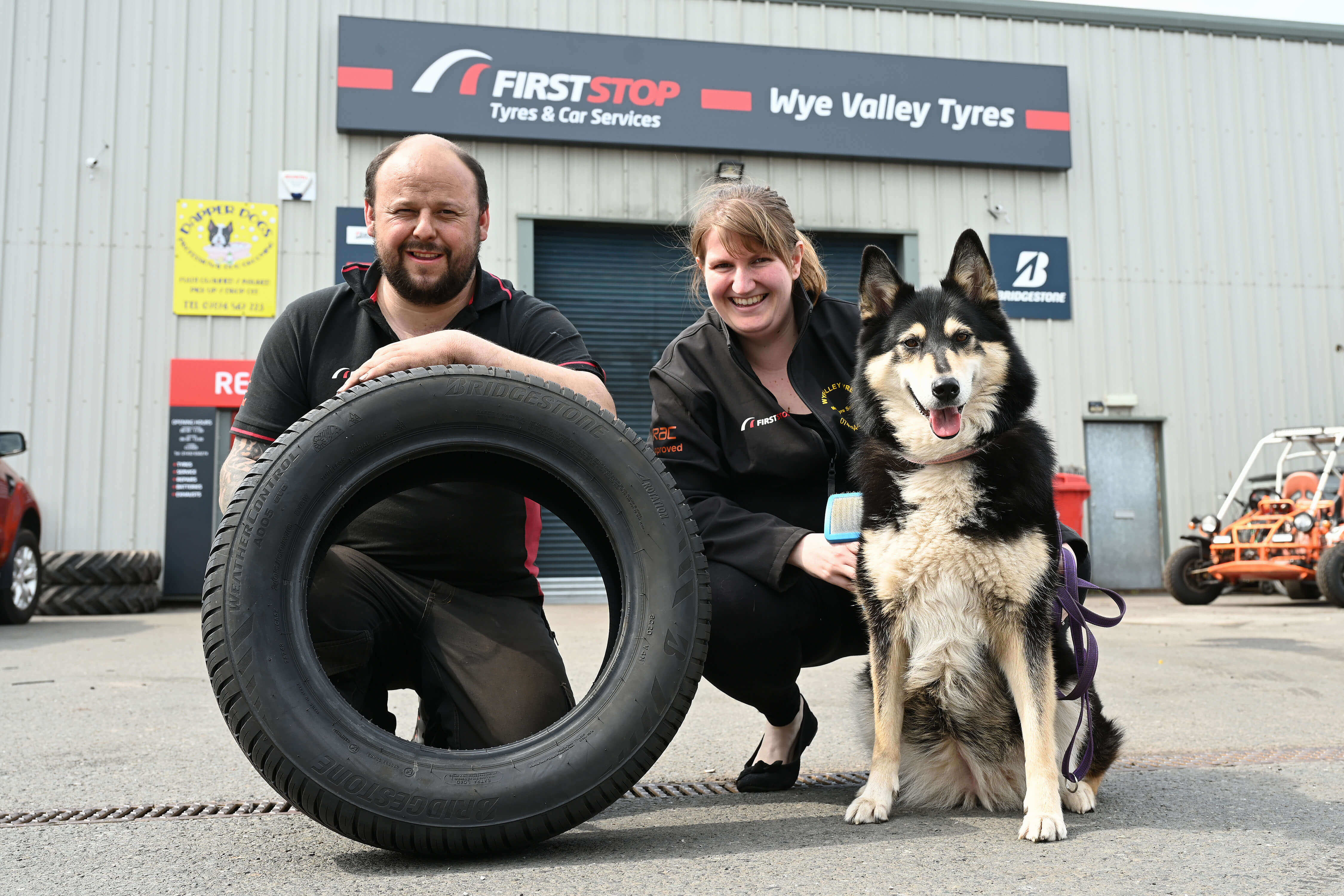 "It's exciting times for us," he said. "We have come through Covid-19 in a position of strength and are looking to grow, which First Stop will help us with. In terms of the two businesses, they do sound like worlds apart and in many ways they are, but both have the same philosophies and always make our customers feel at home with a fantastic service."
Stuart, a dog owner himself with a Spaniel and a Husky-cross-Collie, said it was too tough to choose between animals and vehicles because he has such an affinity for both.
"That's impossible to answer," he joked. "I have a Ford Focus RS which has been a pet project of mine for a few years now, but I can't imagine life without the dogs either."
Stuart, aged 30, left school at 14 to take his first footsteps into the automotive industry and has never looked back since, even if he never dreamt he'd have a dog grooming business in the same building.
"The phone is constantly ringing for Elizabeth and me, as there is always a motorist of a pet owner in need of us. I'm not sure which group are the most desperate for our help, but we're always there for them, whether it's a Range Rover or a dog called Rover!"