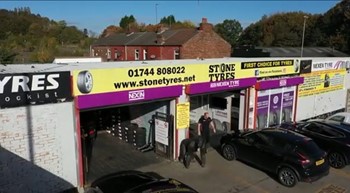 Stone Tyres
Stone Tyres St Helens - The biggest choice of tyres at the best price!
Stone Tyres St Helens provide new Budget, Mid-range and Premium tyres at a cheap price. We will not be beaten for after sales or customer service!
Here at Stone Tyres we provide the very best price for all new Tyres in St Helens. We supply and fit a selection of budget, mid-range and premium brands at the cheapest price as well as offering FREE puncture repairs, for life, something no other tyre businesses offer throughout St Helens. 
We will give you as much information to help you when it comes to finding the perfect tyre best suited to your needs such as fuel and grip rating, price, noise level indicator and so much more.
We don't hide costs here at Stone Tyres St Helens, the quoted price includes fitting, new valve, balancing and disposal of your old tyres. We offer this for a whole range of vehicles from your everyday run around to Vans and 4x4s, we have a great selection of tyres for all.
Head over to Facebook to see what our customers think about us here at Stone Tyres!
For more information why not give our team a call on 01744 808 022.
---
---
Bank Holiday opening hours may vary
---
Get in touch
If you have any questions or would like to get in touch, click on the button below to send us a message and we will get back to you as soon as possible.
Contact Us
---
Read what our customers think
Colin Byrne
in the last week
"It is perfectly clear to see why Stone Tyres Team and Owner John keep winning awards. The service displayed today and always is totally professional meets all health and safety guidelines. I wouldn't trust any of my cars with any other business. Well done John and the team service with a smile and expert guidance 10/10"
Jo Millea
in the last week
"Exceptional service at Stone Tyres. All if the staff were so friendly and helpful, the woman on reception is particularly warm and welcoming. Getting types replaced was actually a great experience because of this welcome! Thank you!"
K Roberts
in the last week
"Many thanks to John and his team for the excellent service that they provide. I've had tyres, wheel balancing and the odd puncture repair done. No matter what has been required, the service has been second to none, everything was explained, shown to me whilst being done and work completed to a fantastic standard each and every time. Would and do recommend without hesitation each and every time."
Júlia Makarova
in the last week
"I'm just so glad to find these guys on network. Such a nice people doing such a superb service! I had an urgent issue and they sorted for me immediately! Always answering phone, honestly kind people and wonderful owners and management! I live in Leeds but in the future I always be back if I'll have any issue again! Distance doesn't matter, absolutely worth it!! Highly recommend!! Thank you guys! ❤️"
Joanne Harper
in the last week
"Brilliant service, welcoming and women friendly. You can see what needs doing via a screen as the ramps have monitors on them. Their honest and family run business which is also what I support."
T LF
in the last week
"We all need to have more businesses like Stone Tyres! All about the customer, quality service and helping the community. Grateful for the support you give to my Son's rugby club, Portico Vine. Highly Recommended!"
Andy Taylor
in the last week
"I first visited stone tyres last week when I need to have puncture repaired friendly helpful staff they took off my space saver wheel fitted my alloy back on even went that extra mile and checked my tyre pressures. I went back yesterday to have my wheel alignment done got same friendly helpful staff the receptionist is great had a laugh and to top my visit off the boss gave me another spare space saver definitely recommend will be using these again"
ann parry
in the last week
"First time I've had to get my tyres changed by myself and Gwen was really helpful. I had the job done within the next hour. Wow! I would highly recommend both for price and for a good customer service. Worth the 5 Star rating."
Maxine Velasco
in the last week
"One of the best car and customer services I've ever received, Stone Tyres St. Helens are incredibly friendly, professional and reliable - not to mention the most welcoming team especially as a female driver. New tyres were fitted efficiently and also have a lifetime warranty for punctures. Highly recommend, huge thank you to John, Gwen & the team!"
B.G
in the last week
"I was in the area and noticed that I have a puncture in one of my tyres. Called into stone tyres, got it fixed in no time at all. Great value for money. I've known John a while but first time I've used his garage because I don't live in that area. Very impressed. Thank you."
---
Services we offer
Puncture Repair
Rotating Tyres
TPMS: Tyre Pressure Monitoring System
Tyre Warranty
Wheel Balancing
---
Facilities we provide
Customer toilets
Disabled access
Finance available
Free WiFi
Off-street parking
Reception waiting area
TV
---